Step 2 Set Up Wifi Box
You can find a detailed introduction in the Guide Book that shows all the steps we have to follow to get the box working. Here, I will demonstrate these steps from a user aspect and try to explain everything as much as I can. After all, some small things are easy to overlook.
I read the Guide Book and connect my Wifi Box to a power supply and a printer. (I use a CR-10S as a test machine)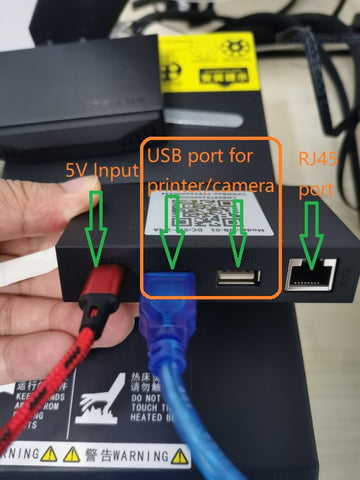 As showed in the figure, the red cable is connected to a power adapter; the blue cable is connected to the printer. Note: a formatted TF card has to be inserted to the Wifi Box as a hard drive. CWB will not work without a TF card!
Step 3 Link to a Smart Device
Download the Creality Cloud App. This App supports both IOS and Android systems. Simply search "Creality Cloud" at your App store on an iPhone, for instance, and you will find information like below:
2. Select the "Device" on the bottom menu to link a CWB
3. you can use a phone number or an email to sign up for an account. Also, you can go to https://model.creality.com/model for registration.
Once you create an account, you can add a CWB or a camera (in the future), download/share STL files, remote printer etc. We have a few steps left.
4. Now, we connect a CWB to our smartphone. Simply follow the instruction on the screen.
Next,
I choose WLAN Settings for Wifi connection.
Please read these notes before click "Next Step". Also, if you couldn't link your CWB to your cellphone, check these notes.