BLTouch from Creality
Hi, 
Not really a bug but fyi on the FAQ page you say the following: If you got your BLTouch direct from Creality, you can use the following picture: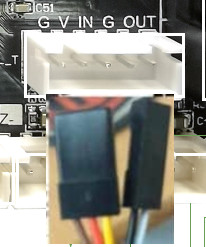 But that's not at all what my BLTouch looks like from Creality. I have to put the black/white cable in the z slot. (Also if someone has the same Creality one, you have to switch the blue and red cable or you will fry your board, you need to have blue/red/yellow)
It took me a while to figure out why my BLTouch wouldn't work with the ender 3 v4.2.7 BLTouch daily builds. I found out that in the custom firmware builder I can use the option for the BLTouch with the z slot but that will cost me a credit every time I want to make one..
Correct - the nightly builds all use the 5 pin header as per the sites instructions.
If you wish to vary this, then you need to build your own suitable to your preferences.
The credits are only there as a rate limit and reset after a certain period of time.
I do have the BLTouch kit from Creality and unlike the OP, I would like to use the 5pin header as shipped (Blue/Red/Yellow/Black/White -> Blue/Red/Yellow/Black/White) on my stock Ender 3 - v2 (so probably board 4.2.2). 
It's a safe bet that the *BLTOUCH firmware posted on the Creality site will be ok, but I have been accustomed to building my own firmware. BLTouch support seems easy enough to configure but it's unclear if I should comment out  Z_MIN_PROBE_USES_Z_MIN_ENDSTOP_PIN and uncomment USE_PROBE_FOR_Z_HOMING.
Would it be possible to get the Source for the *BLTouch firmwares or a diff against the non-BLTOUCH variants ?